Village Hall Committee Annual General Meeting:
TYNINGHAME VILLAGE HALL COMMITTEE
ANNUAL GENERAL MEETING 2019
On Friday 12thApril at 7:30 pm
at the Village Hall
All Tyninghame residents and Village Hall users are encouraged to attend to hear about the proposed hall upgrades and future events. Come and have your say and get involved… Refreshments provided.
Minutes of the 2018 AGM are available on request via email: tyninghamevillagehall@gmail.com
TREASURER'S REPORT
AGM – 13TH APRIL 2018
"….. I've spread around a few copies of the 2017 Accounts, but these will be made available on our website so that you can study them in detail if you so wish. I have the bound and signed copy, audited again this time by accountants Douglas Home & Co. Ltd.
You will notice immediately that they show a loss (for the first time since the present Committee was formed, I might add). This is due to the fact that no rent whatsoever was paid for the Hall for quite a number of years (15 years in fact), mainly due to the fact that a lease could not be agreed and signed – this being the main reason for the previous Committee all standing down and the present Committee being formed. As you have heard from David, this situation of the lease has now been resolved and finalised and from now on we will be paying an annual rental of £750.
In order to compensate for this lack of rent over previous years, it was agreed between the Committee and the Factor that we would pay for the repair of the roof on the storage building at the rear of the Hall. This would normally not form part of our responsibility but it did help to square things. Because of this (the bill being almost £7,800) we are showing a loss, but this is of course a one-off situation.
One thing which is I'm afraid rather misleading is the item headed "Community Events". As these only really got going during the last financial year they were not initially treated as a separate item and so the figure does not reflect the true situation. This is being rectified and will appear as a separate item in this year's account, as I think it is something that everyone is interested in.
I can report that income from renting out the Hall is virtually identical to the previous year. Water Rates were again reduced as I insisted Scottish Water repaid us money which was sitting in their account rather than ours as they had been taking too much money by direct debits.
We received the sum of £500 from Dunpender Community Council which will go towards improving the heating/lighting in the Hall, and we started the current financial year with cash in hand of just over £11,000 which has now increased to just under £11,500. Bearing in mind the large repair bill, and all the Community Events that have been going on in the Hall I feel that we can be quite satisfied with this figure which will go towards some of the improvements to be discussed later at this meeting…."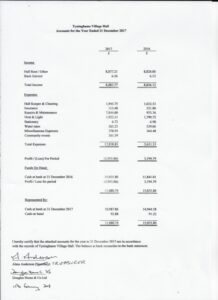 OTHER NEWS:
Dunpender Community Council:
Daniel Wight is Tyninghame's new representative on the D.C.C.. You can get in touch at:
    danny.wight.mob@gmail.com
Data protection act:
As there are new laws coming into force regarding data protection can I advise you that as Secretary I hold your provided e-mail addresses for the purpose of advertising Tyninghame Village Hall events, circulating the Newsletter and arranging bookings for events. Any member of the committee can ask to see the list for the purpose of communications. Should you wish to remove your contact details please let me know – Barbara Schofield, Secretary, Village Hall Committee
Equal Opportunities.
The Committee is opposed to discrimination in any form. We aim to run and manage the Village Hall in a way that is inclusive and ensures that all members of the community, who wish to do so, are able to participate in the activities that take place within the Village Hall and to be involved in the management of the Hall. We try to ensure that meetings, community events and Hall activities are open to all members of the community and are well publicised and in a format accessible to all. One of the objectives of the refurbishment project is to ensure the building and its facilities are accessible to those with disabilities.
Chairperson: David Clark Secretary: Barbara Schofield Treasurer: Tim Harper
Charity No. SC047531
Want to stay in touch? Join our mailing list!
Register at tyninghamevillagehall@gmail.com