TYNINGHAME VILLAGE HALL REFURBISHMENTS, 2018-2022
Tyninghame Village Hall is widely appreciated as a beautiful historic conservation grade building, but the current physical condition of its facilities posed a significant barrier to wider use. When the Tyninghame Village Hall Committee took on the lease for the Village Hall in 2018, an early priority was to make improvements to the interior of the Hall both to increase its energy efficiency and to create a more comfortable environment for users.
PRIORITY SETTING
The priorities for Hall improvements stemmed from a community survey conducted during the summer of 2018 and an energy audit of the Hall. For local residents, the most frequently cited barriers to use of the Hall were:
it is a cold and draughty venue due to reliance on ancient and inefficient overhead radiant heaters plus an open fire; the heat loss through lack of insulation also contributes to a chilly environment
the toilets are antiquated and insufficient – there was only one male and one female toilet in the Hall which caters for up to 50 people seated and 80 standing
the basic kitchen facilities – a domestic cooker, a small fridge and a double sink
the poor overhead lighting
In addition, a Resource Efficiency Scotland report (Oct 2018) recommended the following steps to improve the building's thermal performance and to improve comfort conditions for hall users:
insulating the central roof structure
installing secondary glazing to the existing timber frame windows
installing an alternative heating option, such as wall mounted air-con heat pump units
replacing and upgrading the existing pendant lights with LED lighting
The potential energy cost savings from implementing these measures was estimated as reducing the electricity charges by approximately £1,095 per annum with a carbon reduction of 3.1 tonnes.
FUND-RAISING
The current owner of Tyninghame Village Hall (the Earl of Haddington) did not wish to spend money on improvements to the building, although he retained the right to approve any changes made. The Village Hall Committee agreed to contribute some of its unrestricted reserves towards the costs of refurbishments and to fund raise for the main part of the costs. In total the refurbishments have cost £67,283 of which 65% came from grant-funding and the remainder from TVHC fund-raising and reserves. 
SCHEDULE OF WORKS
Secondary glazing (2019 and 2020) was installed on all windows by Glaze & Save in 2 phases with funding from Dunbar and East Linton Area Partnership (£2,000) and ELC Community Intervention Fund (£4,797).
New lamps and LED lighting (June 2020) were installed by Fraser Russell with £5,000 funding from Be Green.
Replacement heaters (June 2020) – Six new ATC High radiant heaters were installed by Andy Freeman Electrical Services with funding from Dunbar & East Linton Area Partnership (£2,900).

 

Roof insulation (Feb 2021) work was carried out by local contractors Andrew Macdonald Gale & Karl Mott while the Hall was empty during COVID. The work was funded by the Community Climate Asset Fund (£9,614).
Toilet area upgrade (April-May 2021) A total £9216 grant funding was raised from Dunbar & East Linton Area Partnership (£8,816) and Dunpender Community Council (£400) with a further £10,800 contribution from TVHC funds. Planning permission and a building warrant were obtained 8 Feb 2021. The contract was awarded to Grant Watson and the main building and plumbing work was carried out over April and May 2021. Decorating work, including floor painting, was carried out by Sandie & Son. Building Control passed works on 28 July. Haggis Builds completed the renovation work in Sept 2021 and boxed in all pipe work, installed shelving in storage room, made a new storage cupboard in accessible toilet for cleaning equipment and wall mounted water heater. The storage room was decorated volunteers.

 

Main Hall (Oct 2021, Jan 2022). Bob the Painter re-decorated the interior walls and window frames of the Main Hall in October 2021. Richard Barrett Flooring sanded and sealed the wooden floor on 26-27 January (£2600). A DELAP grant of £4,000 was used for this work.
Kitchen refurbishment (Nov-Dec 2022). The work was carried out by Haggis Builds using funds raised from a grant from ELC Community Intervention Fund of £5,473. TVHC raised £2,000 from the Tyninghame House Open Gardens Day and a fundraiser Bridge Lunch. TVHC reserves contributed the remaining funds of £5,500.

 
The photos below show some of the improvements to date.  You are very welcome to visit the Village Hall and take a look for yourself.
Erica Wimbush
Project Lead, Tyninghame Village Hall Committee
14 August 2023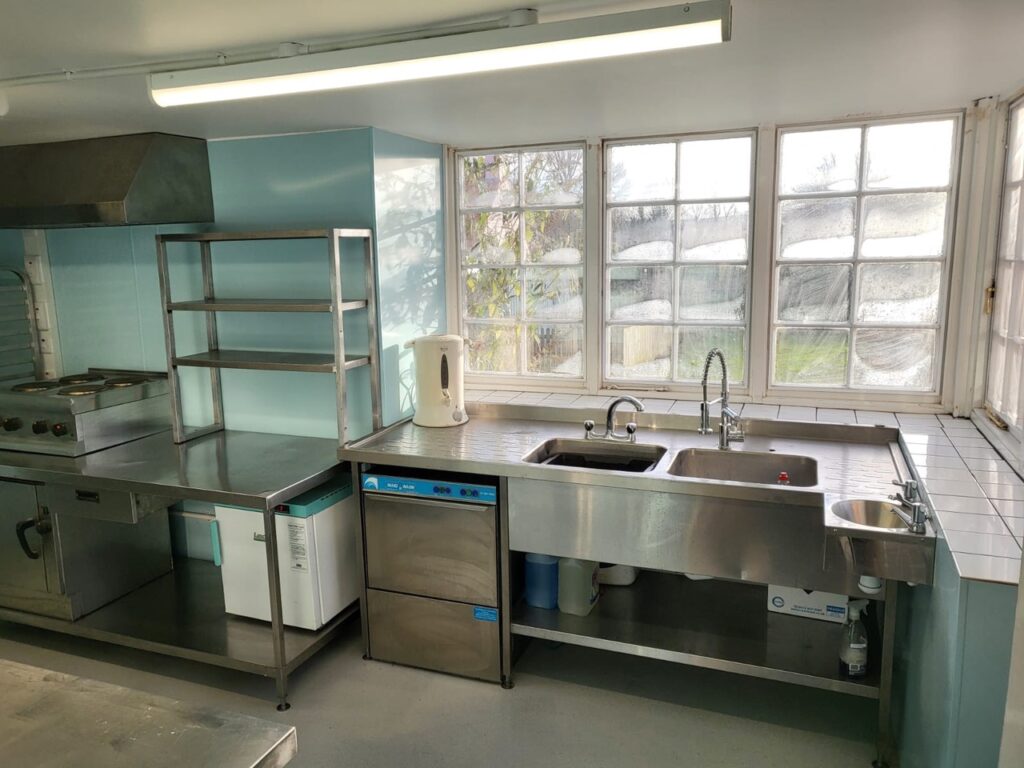 Our wonderful funders and donors.